Nims Dai or Nirmal Purja Magar! Have you heard the name Nirmal Purja before? If you are totally into climbing and expedition or you are an enthusiast, you must have listened.
Do you know the world record for climbing the world's 14 tallest peaks? It is for almost eight years. Nepali climber, Nirmal Purja Magar, who served in the British special forces, for more than 15 years, has a target of seven months. Yes, Nims Dai is currently on his mission called "Project Possible" to conquer all the mountains higher than 8000 meters [14 peaks] within only 7 months of time frame.
According to Nims Dai, in several magazines and talk shows, he had repeatedly told "This is not just about me. It is to depict what the human body can do. I am aspiring to establish a paradigm shift in the perception of human potential."
Who is Nirmal Purja Magar [Nims Dai]?
Nirmal Purja Magar often known as Nims Dai is a country guy representing west Nepal, Myagdi district. He has served for more than 15 years in the British Army. During his tenure in British Army, Nims Dai, has already set the world record of climbing both the 8,848-metre Everest and Lhotse at 8,516m in a record 10 hours and 15 minutes in 2017.
Purja, 35, one of the UK's Special Forces, has already conquered Mt. Everest during his service in the British Army. However, in 2019, he left the military force so that he can tell the stories of an extraordinary career.
Besides, Nirmal 'Nims' Purja, a former UK's Special Forces member has set the world record by successfully climbing 11 of the world's highest mountains, known as the 8000ers, in just over four months.
Purja, 35, has succeeded in the second phase of his ambition to speed climb the world's 14 highest mountains in just 7 months.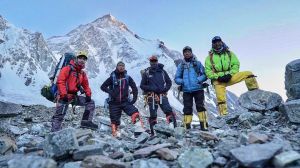 Why he writes his name as " Nirmal Purja MBE?
The reason behind his name as Nirmal Purja MBE is: In 2016, he was awarded an MBE (Member of the British Empire by HM Queen Elizabeth II) for his outstanding achievement on high altitude mountaineering.
What is Project Possible 14/7?
Project Possible is an ambitious project being carried out by Nirmal Purja 'Nims Dai' and few Nepali Sherpa climbers which aims to summit 14 world's highest peaks within 7 months. These 14 peaks are above 8000 meters.
How he is conquering 14 Peaks?
He has come up with 3 phases in which he will be scaling those 14 weeks in three phases which are as follows:
Purja commenced his attempt in April with the 8,091-metre Annapurna, checking the illustrious "8,000ers" Dhaulagiri, Kanchenjunga, Everest, Lhotse and Makalu off his list in only a month to finish his first phase.
For the second part of his mission, he already tackled the notorious Nanga Parbat at 8,125m. Twenty-three days later he stood atop Broad Peak, his fifth and final mountain of the second phase.
In the third phase, he is/will be scaling Mt. Cho Oyu , Mt. Manaslu by the end of the September and remaining peaks.
Where's Nirmal Purja Nims Dai to date?
To date, out of 14 peaks, only three are remaining. He is now in the third phase of his mission. He has already completed 11 peaks out of 14. Within September, he intends to summit both Cho Oyu and Manaslu informed by his recent Facebook post.
What are his achievements?
In addition to the MBE award, he has been awarded the following awards till the date.
1) Orchestrating the rescue of a stricken Indian climber, who had succumbed to cold weather injuries in the infamous 'Everest Death Zone'. Although the rescue was grueling, it was successful and the climber has made a full recovery.
2) Completion of the G200E Gurkha Expedition that took 13 Gurkhas to the top of Everest, for which Nims Dai was the lead instructor.
3) Fixing the all-important rope lines to the summit of Everest. The original fixing team missed multiple windows due to bad weather so he formed a team and took care of this essential work. This action resulted in the safe and successful summit of the G200E expedition as well as for all other teams and climbers on Mount Everest that season.
4) Shortly after the G200E Gurkha expedition he returned to the region and managed to set several world records during his 7 days' spare leave.
What about Nirmal Purja's Guinness World Records?
1. Guinness World Record 1: The fastest time ever from the summit of Everest to the summit of Lhotse, taking a total of 10 hours 15 minutes, beating the previous record of 20 hours.
2. Guinness World Record 2: The fastest consecutive summits of Everest, Lhotse and Makalu (Higher 8000m peaks) taking a total of five days.
3. Guinness World Record 3: The first person to summit Everest twice, Lhotse once and Makalu once, in the same season, taking a total of 17 days.
Conclusion
On his voyage to carve climbing history, the zealot as well as an invincible mountaineer has in the process and had set many speed climbing records this year.
His previous records include his summits of Everest, Lhotse, and Mount Makalu, three of the world's five highest mountains, in a record 48 hours – and despite the lethal overcrowding this season on the planet's highest mountain, Everest.
Team Trekking Top Nepal would like to extend its warm felicitations and good words to Nirmal Purja Nims Dai and his team for the successful completion of the Mission Project Possible. YES! It is possible. Wish you all the best Nims Dai for your future endeavors.