Best time to visit Nepal? Yes! Though Nepal is touted as the best spot to visit in all seasons, there are few pros and cons of all seasons. Most importantly, September-November has few perks of traveling one should not miss.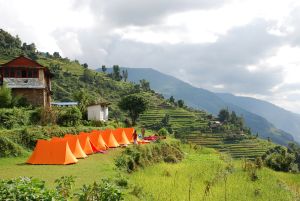 Normally we can go Hiking in Nepal at any time of the year. There are no constraints and limitations. But every season in Nepal has something special to deliver strange-looking topography, environment, and experience. In this life, we can't explore Nepal in a real because each place undergoes four seasonal changes.
The rustic setting of Hills and Himalayas of Nepal have much more things to offer in terms of adventure, especially in the September-October-November. In Nepal, the autumn season is the best trekking season which entails of September, October, and November. Dashain-Tihar vacation also falls under the Autumn season hence internal tourists and movement of people are seen.
September- November offers excellent weather, ambiance, and peripheral vibes so it is highly recommended for any kinds of outdoor activities in Nepal. The temperature is moderate and mild, which makes Autumn, the best time for visiting Nepal.
Autumn season comes just right after the monsoon so the dust and haze in the air are cleared away from the atmosphere. After the weather is settled, most of the days seem normally sunny and comfy with clear blue skies and open views.
September, October, and November are three top trekking/hiking months in Nepal. Legions of globe trotters from all around the globe fly to Nepal during these months. They get an incredible experience to experience different adventures, witness Dashain and Tihar to regular hiking to extreme trekking.
Mainly September-October-November is the peak hour when Nepal receives a large number of national as well as international tourists. The most popular trekking trails such as Everest region, Annapurna region and Langtang region are also hit by the huge figures of nature lovers. One of the popular tourist places, Thamel district of Kathmandu city is also getting full due to more tourists and guides in this season.
Nepal in September-October-November | Weather Conditions
The season of Autumn lasts from September to November. During September, the weather condition is best and most importantly, not much cold. The average temperature in Kathmandu during this season ranges between 15°C to 25°C. Everywhere in Nepal, the greenery of Monsoon also prevails as it fades gradually which looks good though. We can enjoy our sights, capture photos and share it to the rest of the world.
Generally, from early September the Monsoon becomes gradually inactive. Likewise, temperature also starts to fall in the mountainous parts of Nepal.
The average temperature will be around 25°C. The maximum temperature rises to 30°C and the minimum temperature down to 20°C.
As the Spring season is followed by Autumn, it presents a clear view of the skies, topography, and hills. There will be no clouds to obstruct our vistas. Days will be warm and nights are generally colder.
No doubt! Autumn will provide you a pleasant atmosphere for trekking and hiking in the Himalayan region of Nepal.
During September, the night at the mountain region is not so colder. Between 2500m to 3500m, the day temperature is 20.5°C and night temperature is 5 to 6°C. At the higher altitudes, temperature ranges from about 20°C down to -10°C.
Trekking in Nepal in Autumn: Best time to visit Nepal
Hiking in Nepal in Autumn is one of the best outdoor activities to carry out. Right after the Monsoon, September comes with an astonishing vista of the sky, fresh environment and the jaw-dropping scenery of mountains ranges. It's the best time to visit Nepal. You can go hiking, trekking and many more.
No worries! In the worst case of weather sometimes, even those hidden mountain peaks offer us a fabulous view when they play hide and seek with clouds. One can see lush forested hills and vegetation. Most of the trekking trails entail pastures, meadows, beautiful waterfalls, rice fields, and abundant hillocks.
As Autumn season in Nepal is the perfect season for trekking, you can expect the trails to be a bit populous. As a result, accommodation and additional facilities might not be easily available. So, you guys need to consult with your respective travel agency before planning a visit in September-October-November.
The main reason to visit Nepal during Dashain-Tihar [Autumn] is villages blooms in Nepal with full of lives and locals. One can easily enjoy the treks in every nook and corners of the country as cities get emptied with temporary migration for a week. Nepalese people celebrate Dashain for 15 days hence they all flock to their birthplace i.e. countryside. Hence, every part of the country seems to be dynamic and welcoming. Not only for dense human presence in the village but also with the high movement of internal tourist inside Nepal, it is important.
Another reason is the environmental vibes created by nature in Dashain-Tihar. The atmosphere during this season is just AMAZING! From flowers to greenery it is awesome to hike and trek. Weather is just mild and moderate starting its preparation for winter.
Festivals in September/October: Teej, Dashain, and Tihar | Best time to visit Nepal
Autumn is not only popular for walks and hikes but also for the different Nepalese festivals. The major attractions of this season are some of the biggest festivals like Teej, Janai Purnima, Dashain, and Tihar.
Also, these festivals make September-October, the best time to visit Nepal.
Teej has just been over. It is a big festival which is celebrated basically by females in Nepal. If you visit Nepal in September, you will be able to witness and capture how women celebrate this grand festival.
Furthermore, in between September and October, Nepal celebrates another one of its major festival named Dashain. It is also known as the 'festival of victory over demons'.
The festival of Dashain lasts for 15 days. In the tenth day, the younger ones receive the red mark "Tika" and blessings from their elders. It is a symbol of the triumph of good over evil according to Hindu folklore.
In addition to that, the month of October hosts another festival named Tihar which is the second biggest festival of Nepalese. Bhai Tika is celebrated for five days where the traditional cultural features of Nepal are depicted.
Tihar in Nepali dialect is also called as 'Bhai Tika'. On the fifth day of Tihar, sisters and brothers accept Tika and garlands from each other. Bhai implies brother in Nepali. Brothers and sisters also honor each other and the sisters pray to the God of Death, Yama, for their brothers' progress, prosperity, and longevity
Tihar is also called the 'festival of lights and colors'. It facilitates the holy bond of brothers and sisters. Not only that, within these five days of Tihar, not only brothers are worshiped but also crows and dogs are also worshiped as the representation of several Gods.
Best Trekking Trails for September- October-November in Nepal
When it comes to trekking, there are two most sought-after (legendary) trekking regions in Nepal: The Annapurna region and the Everest region. Besides, the rain shadow areas like Manaslu, Upper Mustang, Humla, Karnali and Dolpo circuit, and trans-Himalayan region are also in the list.
Below we have mentioned some of the tops most recommended treks in Nepal in September, October, and November. This list includes trails as per the recommendations of multinational trekkers. If you cover these trails during the best time to visit Nepal, you will be in awe.
1) Everest Base Camp
Trek to Everest Base Camp is the most-sought after dreamy trail by many trekkers around the world. No doubt, it is an adventure of a lifetime which should be experienced. Often the journey to EBC is a trek which engraves into the heart of the explorer and nature lovers.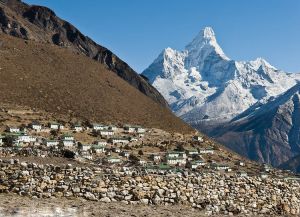 Away from the circumference of modern life, the journey will quench the thirst of any roaming soul. Exploring the stunning landscape, geographical, cultural and bio-diversity during this trek is just amazing. Ethnic Sherpa people, human settlements, their culture, lifestyles, mountains, hills, flora, and fauna are what make this trek worthy.
Everest region offers us close-up views of some of the most beautiful and the highest mountains in the world. And September-October-November is one of the perfect times to trek along with the shadows of the Himalayas like Everest and Ama Dablam. It has much more to offer to all of us.
2) Langtang National Park
Langtang Trekking is the classic trek route in Nepal with real beauty. This trek route proceeds through traditional ethnic villages, deep and dense forests, and stunning landscapes. While trekking in Langtang region in September-October, we can see plentiful of yak herds grazing on the alpine meadows and photogenic pastures.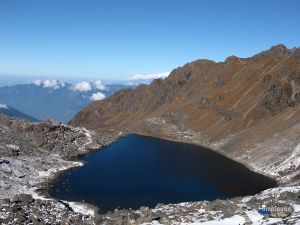 On our trek to Langtang region, one can encounter with Red Panda and is greeted with heartwarming hospitality presented by gregarious locals. This trek is a perfect blend of natural and cultural aspect. This trek route passes through the amazing forests and beautiful hillock.
Inside Lantang National Park, Gosaikunda region is the most popular as well as the holy freshwater lake around the altitude of 4400m. During Janai Purnima Festival in August, a large fraction of pilgrimage makes a holy visit towards Gosaikunda.
Trek to Dolpo region has already appeared in historical records since the 8th century. This virgin region is situated in Shey Phoksundo National Park at the western part of Nepal, between the Tibet plateau and Dhaulagiri range. Dolpa district is divided into two part: Upper Dolpa and Lower Dolpa but the entire district were closed to all trekkers until 1989.
You know what? Dolpa was the location where Oscar-nominated movies "The Himalaya" and "The Caravan" and for the German documentary Dolpo Tulku were shoot. Trekking to the Upper Dolpa consists of passes amid several mountain ranges of Annapurna, Kanjiroba, and Dhaulagiri.
We also have to pass through beautiful villages, trail routes and witness fantastic demographic. The beauty of the tranquil Phoksundo Lake during the trek yields lifetime memory. Despite its accessibility and low popularity in this region, Dolpa is still newer when compared to Everest Base Camp Trek and Annapurna Base Camp Trek.
4) Nar Phu Valley Trek
Trekking to the lost valley in Nepal, Nar Phu Valley trek is a real Himalayan adventure experience which is as unforgettable as it sounds. Tucked between the most popular Annapurna region and Manaslu, Nar Phu is a real yet secluded gem. It boats explorers a rare opportunity to unearth the yet to be discovered valleys.
Of course, Nar Phu Valley Trek is a mix of raw Himalayan nature and ancient Buddhist culture.
5) Annapurna Region | Best trekking in Nepal
Annapurna region sits on the front page when it comes to yearly its visitors from around the world. It covers a wide range of cultural and geographical diversities. Showcasing every little aspect of its natural and cultural prosperity, Annapurna region beckons visitors from all walks of life and of all ages.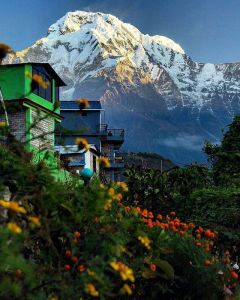 Ghandruk, Poon hill, Annapurna Base Camp, Annapurna Circuit, Manang, Mustang, Thorang La Pass, Muktinath, Khopra Danda are some major eye-catching attractions of Annapurna Conservation Area.
The lifestyle, daily chores and tradition of the inhabitants in the Annapurna region is captivating. Even the remote nook and corners of the country in this trail offer homestays, sophisticated lodges, and guest houses.
Green paddy fields, deep woods, rivulets, hot springs, and glacial areas are some of the general attractions. Major mountains and Himalaya ranges from this region are Annapurna III, Annapurna II, Tilicho, Machhapuchhre, and Dhaulagiri.
Witnessing the breath-taking views of all these Himalayan ranges and capturing from Poonhill is a heavenly experience. Trust us! You won't regret after visiting Annapurna region, instead, you will get addicted.
Conclusion:
Home to hundreds of Mountains, Nepal is the perfect trekking destination in the entire world. You can schedule your trek/hike at any time of year via Trekking Top Nepal. But September-October-October in Nepal is highly recommended as it is the best time to visit Nepal. During these months, Nepal boasts pleasant climate and weather conditions.
Hiking in Nepal in September, October and November is the mandatory outdoor activity one must undergo during his/her lifetime. You can get glimpses of the rich festivals and culture of the locals in September and October. One can experience the thrill of both nature and culture in with perfect blend.
Thus, trekking in Nepal during September- October will be the best time to visit Nepal which will surpass all your expectations. We hope it enhances your adventure, photography and cross-cultural experience.
In the September-October-November, two main Hindus festivals are celebrated. Villages are also full of people and joy. Many people return to their home districts, villages to celebrate festivals with their families and loved ones. As mentioned above due to various factors September-October-November is undoubtedly the best time to trek/hike in Nepal.
Thank you for the read.