Dashain Festival of Nepal is one of the most important Hindu festivals which is celebrated all over the country in a delightful way.  The 15 days long festival usually falls in the month of September or October. It starts from bright lunar fortnight (Shukla Paksha) and terminates on the day of the full moon (Poornima) according to Nepalese calendar. Hindus greatest festival, Bijaya Dashami [Dashain] commemorates the great conquest of the gods over the evil demons. Goddess Durga, the symbol of power, is worshiped and prayed during this festival.
According to the Hindu folklore, it is revealed that a demon named 'Mahisasur' who spread horror was assassinated by Goddess Durga. And, the first nine days of Dashain represents the continuous war between vice and virtue. And, the tenth day, Bijaya Dashami, signifies the triumph of good over evil. Another Hindu myth, 'Ramayana' uncovers that Dashain symbolizing as the triumph of Ram (vice) over Ravan (virtue) with the blessings of Goddess Durga.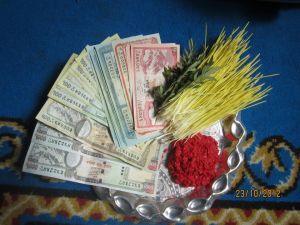 Important Days of Dashain Festival
Ghatasthapana is the first day of Dashain. On this day, people sow maize and barley seeds, cover and worship (Jamara) for 10 days. On the seventh day, Fulpati is celebrated which is also known as 'Saptami'. The eight-day is regarded as Maha Ashtami. On this day, animals like buffaloes, ducks, goats, hens are slaughtered to Goddess Kali as the sacrification and the meat is taken as 'Prasad' (holy food).
The night of eight-day is called the dark night- 'Kal Ratri' whereas Maha Navami is the ninth day. On this day, craftsman, mechanics, traders etc worship their instruments and tools by sacrificing several animals and offering them to their utensils. Finally, the tenth day is named as Bijaya Dashami which is the most important day of this festival. On the tenth day, younger ones receive Tika (a mixture of yogurt, rice, and vermilion), Jamara (planted on the first day) and blessings from elders and relatives.
In another facet, this festival is the ceremony of reunion and fun. People living far-flung away from home or homeland, revisit their hometown, districts and villages so that they can get together with their loved ones. Likewise, almost all Nepalese buy new clothes for their children. People enjoy eating sumptuous foods and play a lot of games including cards. Basically, we can see Nepalese inviting guests, organizing a feast, visiting their relatives' houses, flying kites, setting up bamboo swings and getting involved in various activities like travel, entertainment.
This year, 2018 [2076], the first day of Dashain Festival – Ghatasthapana fell on September 29, the seventh-day Fulpati will be celebrated on 5th October, followed by Asthami on 6th  October and Navami and Dashami on 7th and 8th October respectively. Additionally, for 5 more days till 13th October which is named as Kojagrat Purnima, the festival continues.
If you are thinking of taking part in the festival, Trekking Top Nepal would love to welcome you during this festive season. During Dashain, one gets to enjoy quaint the streets of Kathmandu as people undergo temporary migration to the countryside.  You can see Kathmandu Valley in its the serene and secluded mood.