Lumbini? Have you heard of this place before? 
Visit the beautiful monasteries built by countries from around the world like China, Japan, Sri Lanka, Myanmar, Germany, France, etc. in Lumbini, the birthplace of the Lord Budhha.  And admire the spectacular and diverse architecture they showcase. Soak up the peaceful atmosphere and above all visit the Mayadevi Temple which dates back to 2,200 years.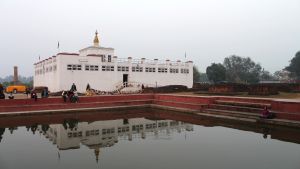 Lumbini is the Buddha's birthplace, one of the world's most important spiritual sites and attracts Buddhist pilgrims from around the world. Today you can visit over 25 Buddhist monasteries built by diverse countries from Vietnam to France, study Buddhism, meditate and visit the birthplace within the sacred Mayadevi Gardens.
Mayadevi Temple is the most sacred site where archaeologists have identified the exact spot where Lord Buddha was born. Inscriptions on the Ashoka Pillar nearby also refer to the spot as his birthplace. It is said that the newly born Prince Siddhartha (later became the Buddha) took his first seven steps and delivered his peace message to humanity. It is one of Nepal's most visited religious sites. 
Loading…