Have you heard about Teej Festival in Nepal? It is the biggest festival celebrated by Nepalese women. Nepal is one among such countries where festivals are observed nearly on a monthly basis. YES! It observes dozens of festivals in a year. Being a multi-ethnic nation with more than 125 ethnic groups, Nepal celebrates each festival uniquely.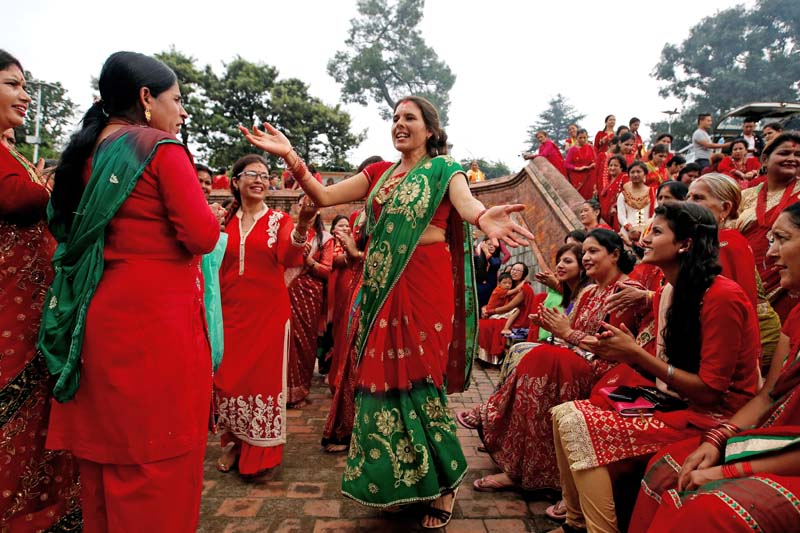 The mix-culture of Nepal cherishes and respects every religion. People not only worship the God, but they also pray family members, being the protector of each other.
There are different occasions in Nepal like worshipping mothers, fathers, dogs, spouses and the bond between and among the people. When it comes to Teej, it is known as women's fasting festival which is celebrated throughout the country in the month of September. Here in this blog, I have attempted to provide description about Teej Festival in Nepal and how it is celebrated by the Hindu women during the auspicious occasion.
During Teej Festival in Nepal, both married and unmarried women fast for their husbands and brothers. Mainly, married ones pray for their husbands wellbeing while unmarried pray for the good of future husband.  At the same time, Teej also facilitates the bond between/among sisters and brothers. Traditional dancing and singing together with devotional songs is done by wearing red and green 'Sari' as outfits by married women.
Also a crowd of women gather in and around Hindu temple to worship God – the main features of Teej festival in Nepal. Likewise, most of the devotees in Kathmandu flock to the Pashupatinath temple, the biggest Hindu holy shrine in the world.
As Teej festival is also considered as the national festival of Nepal, the government announces the national holiday. It is observed for three days. As a whole, it is a three-day-long celebration which combines splendid feasts as well as rigid fasting. Every day has its own significance and rituals.
TEEJ FESTIVAL IN NEPAL AND ITS ORIGIN
The name of this festival "Teej" is assumed to have originated from a small red insect, which appears in the earth only during the monsoon season. Hence, this festival is named after that particular insect. Talking about the origin of Teej festival in Nepal, as per the Hindu legend, Teej is affiliated to the Goddess Parbati for her union with Lord Shiva. Hence, today, Teej is celebrated in a grand fashion in Nepal.
According to Hindu mythology, Goddess Parbati was accepted by Lord Shiva as his wife in her 108th birth. This symbolizes that Goddess Parbati had to take birth for 108 times and keep fasting being granted by the wish of being Shiva's wife by Lord Shiva himself. That is why, Goddess Parbati is also known as "Teej Mata," which means "Goddess of Teej. This is the reason behind Nepalese women fasting for their husband's prosperity.
WHY TEEJ FESTIVAL IN NEPAL?
Teej festival in Nepal is solely dedicated to the Goddess Parbati, marking her union with Lord Shiva. Teej is celebrated for the well-being of husbands, brothers, and the whole family. Nowadays, Nepali women celebrate this festival as the occasion to be united.
They also have fun while praying for the well-being of the husband and the entire family. Nowadays, it has also become the perfect path to bring women together of different class and enjoy as one. Besides, the celebration of Teej indicates the ultimate sacrifice a woman makes or can make for her spouse.
HOW IS TEEJ FESTIVAL IN NEPAL CELEBRATED?
In Nepal, Teej is a three-day festival. However, Teej is celebrated in different ways and in different ways in other countries like India. This festival is celebrated in total three days that combine sumptuous feast as well as rigid fasting where women don't even drink a drop of water. You know what? It is celebrated all over the world by Nepalese Hindu women. Teej is a vibrant festival that has been more popular since the start of this festival, however, in these recent years, this festival has influenced many Nepali women residing all over the world.
Women in red attire sing and dance in the street, going to temple in the holy and fasting mood. Usually, women get called or collected by their parents or brothers, where she celebrates Teej with rest of the family members and siblings. Let us look at the three days of Teej in Nepal.
WHEN IS TEEJ CELEBRATED?
     Teej usually falls in the month of Bhadra according to the Nepali calendar (August to September in Solar Calendar. If you want to witness this joyous festival, Teej then do not forget to checkin the nearby temple of Lord Shiva. Remember, during the month of September women gather in red Saris.
1) First Day: Dar Khane Din
On this day, we eat special delicious food named the 'Dar'. Dar is prepared from the mixture of different items such as milks' product.  Also, the women wearing the finest clothed meet up at one place and perform traditional dance and sing songs. Generally, grand feast also takes place during the evening.
2) Second Day: Fasting Day
Among those three days of Teej Festival in Nepal, it is main festival day of intended to worship and pray. Without even drinking a drop of water in the name of eating, some women take rigid fast throughout the day.The holy complex of Pashupatinath temple gets covered by the crowd of women for religious ceremony, to worship Lord Shiva Linga.
In addition to that, beautifully decorated idols of Shiva and Parbati are offered fruits and flowers to get blessed from divine spirits.
3) Third day is Rishi Panchami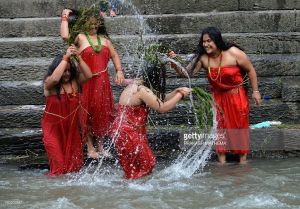 Rishi Panchami is the third day and last day of the Teej festival in Nepal. As the name sounds religious, Rishi Panchami is known as the act of purification. Getting up early at dawn women on this day take a holy bath, along with its leaves. It is also believed that a sacred bath takes away all sins of the previous year. In the end, after completion of bathing, they generally sit in a semicircle while priest sits in the middle and chants devotional prayers.
Conclusion
If you are looking forward to visit Nepal in 2020 then you can contact Trekking Top Nepal. Being operated by Osho World Adventure Group of Companies, we have our boutique hotel named Dom Himalaya in Thamel.
Okay! See you.